Open courses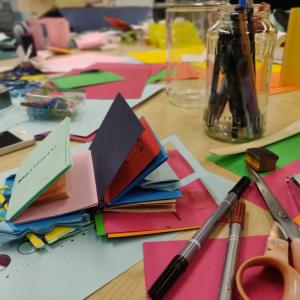 Maa organises evening courses that are open to everyone. On this page, you can find information about upcoming evening courses.
We always announce new courses on this page and on social media. There are more courses coming!
(photo from Vidha Saumya's course)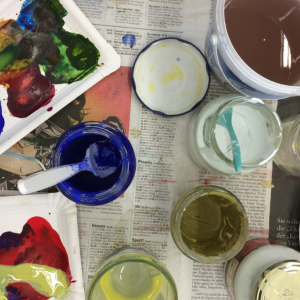 🎨 27.9.-30.11.23: Tempera painting, teacher: Annaliisa Krage
➡️ Register here for Maa's open tempera course! (DL 20.9.2023)
Topic: Tempera painting
Teacher: Annaliisa Krage (MFA, she/her)
Annaliisa introduces the course by the following: "The course is open to painting beginners, hobbyists and students. The starting point for the course is the tempera technique, through which we get to know the fundamental properties of painting: binder, pigment, base and painting. As the course progresses, the participants will be able to implement their own motif and painting ideas using the tempera technique. I guide the participant's work according to their needs and desires."
Price: 170 € (including pigments, painting canvases need to be purchased independently)
Schedule: 9x Wednesdays 17.30–20.00
Dates: 27.9., 4.10., 11.10., 25.10., 1.11., 8.11., 15.11., 22.11., 30.11.2023
Location: Art School Maa, Suomenlinna
Course languages: Finnish and English, depending on the participants' needs
Previous evening courses
Piirustus ilmaisumuotona (in Finnish)
11.3.–6.5.2022, 23.9.–.2.12.2022, 16.9.–2.12.2021, 22.1.–23.4.2021, and during previous years
Teacher: Eija Keskinen
Artist books: Concept to exhibition
16.9.–2.12.2021
Teacher: Vidha Saumya
How To Inhabit A Transitory Space
30.1.–1.4.2018, 20.11.–18.12.2017, 30.1.–1.4.2017, and during previous years
Teacher: Egle Oddo