Staff
Art School Maa has two permanent staff members working four days per week. All others, such as teachers, lecturers and artists, work with us on a freelance basis. Our equality officer works when needed.
(Photos of H and Tanja by Maa student Pihla Törrönen)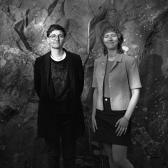 Rector
H Ouramo
(they/them)
As rector, my role is to act as the school's pedagogical, artistic and financial director. I function as the foreperson of Maa's staff. One of my tasks is the planning of the studies.
🕰 work days Mon-Thu
✉️ h.ouramo(at)taidekoulumaa.fi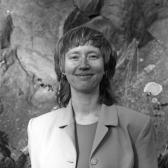 Study and Administrative Coordinator
Tanja Becher
(she/her)
As study and administrative coordinator, I take care of running the structures of the school and the supporters' association. This includes, for example, study registers, salaries, and budgets, as well as production and communication.
🕰 work days Mon-Thu, at school Mon-Wed
☎️ +358 (0)41 319 5992
✉️ info(at)taidekoulumaa.fi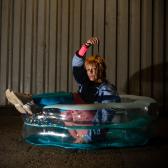 Equality Officer
Lintu Lindfors
(they/them)
In situations concerning equality, you can turn to Lintu. Only the equality officer can read your email or anonymous feedback. Conversations are confidential.
🕰 works when needed
✉️ yhdenvertaisuusvastaava(at)taidekoulumaa.fi