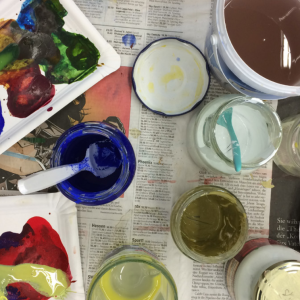 27.9.-29.11.23 Open evening course: Tempera painting, teacher: Annaliisa Krage
🎨 ➡️ Register here for Maa's open tempera course! (DL 20.9.2023)
Topic: Tempera painting
Teacher: Annaliisa Krage (MFA, she/her)
Annaliisa introduces the course by the following: "The course is open to painting beginners, hobbyists and students. The starting point for the course is the tempera technique, through which we get to know the fundamental properties of painting: binder, pigment, base and painting. As the course progresses, the participants will be able to implement their own motif and painting ideas using the tempera technique. I guide the participant's work according to their needs and desires."
Price: 170 € (including pigments, painting canvases need to be purchased independently)
Schedule: 9x Wednesdays 17.30–20.00
Dates: 27.9., 4.10., 11.10., 25.10., 1.11., 8.11., 15.11., 22.11., 29.11.2023
Location: Art School Maa, Suomenlinna
Course languages: Finnish and English, depending on the participants' needs
Click here for the Facebook event
***
Art School Maa follows ethical guidelines against any form of discrimination. Please read our ethical guide here before registering.
Please note that registration is binding.
The minimum number of participants in the course is 8 and the maximum number is 15.
The course will only be held, if the minimum number of 8 participants is fulfilled by 20.9.2023. You will be contacted latest 21.9.2023 whether the course is taking place.
If you have questions, you can contact Maa's coordinator Tanja Becher: info(at)taidekoulumaa.fi