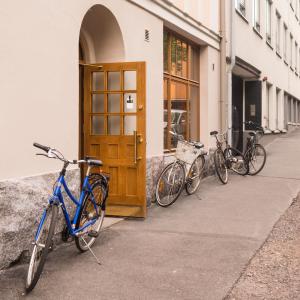 Open position: Maa-Tila project space is looking for an intern
We are looking for a part-time intern for Maa-Tila project space starting from the middle of January or by agreement.
Maa-Tila is a project space for discussion, encounters, and spatial experiments. We focus on presenting experimental, discursive, messy, critically engaged, and underrepresented practices. Maa-Tila is located in Pääskylänrinne, Sörnäinen, Helsinki. The project space is run by Art School Maa.
The tasks include, amongst other things:
• invigilating the gallery/project space and customer service when the gallery is open
• development and planning of the project space's activities
• marketing and communications
• communication with artists
• assisting with exhibition installation
• getting to know the field of art education and organising events, networking in the field of contemporary arts
• assisting Art School Maa with the admission interviews
The internship is part-time. Working time is approximately 18 hours per week during the opening hours of Maa-Tila (Wed-Fri 2–6 pm, Sat-Sun 1–5 pm). Duration of the internship can be 3–6 months (part-time) or by agreement.
The internship is best suited for students as part of their studies or as an unemployed job seeker. Please note: A job seeker must have the possibilities for a work trial and a student must have an internship support (for example from university). Salary depends on the organisations funding. Salary payment is at least minimum wage as defined by KELA, the Social Insurance Institution of Finland (for full time 1331 € / month in 2023). The salary is proportional with the working time.
Please send your motivation letter and CV by 3.12.2023 to: info@taidekoulumaa.fi.
Interviews can be held already during the application time, latest in week 50.
Please use "Internship January 2024" as the subject line.
For more information about Maa-Tila, please check: https://maatilaprojectspace.com/about
For more information about the internship, you can contact Maa-Tila's coordinator Emma Lilja via info@maatilaprojectspace.fi. Please use "Question about Internship January 2024" as the subject line.